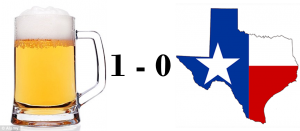 For those that follow these things, there are currently three important pieces of our archaic Texas beer legislation being fought throughout our court system.
But before we dive into them, let's clarify one thing. The much vilified Texas Alcohol and Beverage Commission (TABC), does not make the beer legislation. It enforces and interprets the existing legislation. More about that latter point in a second.
Here are the three pieces of legislation being fought:
The right for a brewery to sell their distribution rights
The right for a brewery to sell beer for off premise consumption
The right for retailers to package beer in so called "crowlers"
Distribution rights
Back in the 2013 legislative session, Mr. Corona slipped a little pill into the entire beer legislation package that prohibited brewers to be compensated for the distribution rights. Long story short, there's many other articles out there that cover all the details, three Texas breweries came together to fight the constitutionality of this bill. Live Oak Brewing Company, Revolver Brewing and Peticolas Brewing Company filed a motion in court, which yesterday was ruled in favor of the brewers.
In summary, brewers now have the right to sell their distribution rights. It's a win for breweries since it provides a channel to raise capital funding without having to sell actual brewery ownership stakes, incur more debt or otherwise compromise on the manufacturing side of the business.
On premise sales
Once more, handcuffs were part of the entire package of the 2013 legislative session. While many good things did come out of that package, one of more restrictive ones is that a brewery is not allowed to sell beer for off-premise consumption out of the taproom. Yes, breweries gained the right to run a taproom and sell beer in the taproom. But while it is quite common in other states to walk into a brewery, sample some of the beers and purchase what you enjoyed to take home with you, this was a big no-no in Texas. Which led visitors to have to chase down what they liked via the retail channels in the state. This may not be a big deal for larger production breweries, but, based on my conversation with several smaller operations in other states, it is an important factor in overall revenue. If you are confused about which type of license can sell beer "to-go", I've written a short article about that before
Two North Texas breweries, Deep Ellum Brewing Company and Grapevine Craft Brewery, who joined DEBC as co-plaintiff, stacked hands to fight this through the legal system. Since one can purchase wine to go at a winery, or beer to go at the holders of a brewpub license, but not do the same from holders of a brewery license, DEBC and GCB have filed a motion that states that this distinction is one that violates their constitutional rights as a licensed manufacturer.
More to follow soon on this one, but the outcome is still pending
Crowler packaging
If you're not familiar with the concept of a crowler, it's basically an aluminum can, filled at the time of order. Oskar Blues was the first brewery to experiment with this packaging idea for their beer-to-go and they have a really good article explaining the principles and benefits of a crowler.
Remember how at the top of the article I mentioned that TABC not only enforces the legislation, but also interprets existing laws ? This one is an example of the latter. While the other two motions question the constitutionality of Texas legislation, this case revolves around TABC's interpretation of what is considered "packaging".
In the case of crowlers, TABC considers them as part of the beer manufacturing process, and hence retailers and growler shops are not allowed to use them since they don't have a manufacturing license. In addition, holders of a brewpub license can only package their own beer in a crowler. They can fill glass or other "re-sealable" containers, but not the single use crowlers. Except for their own beer. As stated above, holders of a brewery license are currently not allowed to sell "beer-to-go". Let's hope that changes soon as well, at which point they would be able to use crowlers for their own beers as well.
Cuvee Coffee Bar in Austin was the first retailer who was shut down by the TABC. Many other retailers were soon to follow. Cuvee Coffee Bar has subsequently filed suit arguing that while section 25.01 of the Texas Alcoholic Beverage Code authorizes a licensed retailer to sell beer for off-premise consumption, it doesn't specify which containers can be used to sell beer to-go. Hence they have found the interpretation of TABC to be unwarranted and have asked a judge to provide a ruling. The hearing was earlier this week and the ruling is expected in the next few weeks. We're all hopeful it will be in favor of Cuvee Coffee Bar and all the other retailers.
Where do we stand
The Texas beer legislation is vast, complex and archaic in comparison to many other more craft beer friendly states. But slowly we are seeing the momentum growing where breweries, brewpubs and retailers are fighting back against the Texas legislation that largely favors the distribution tier over the smaller manufacturing and craft beer operations. We have to remind ourselves that in many cases TABC is not the culprit, but the enforcer of legislation that is voted upon by the representatives we put in office. The crowler interpretation is the one exception I can think of. But if we want Texas to become a more craft beer friendly state, talk to the representatives you are about to vote into office. Ask question. Inquire where they stand or what they will do to support the craft beer movement in the state.
That's the best thing we can do to support those folks that make and sell our favorite beverages in the world.