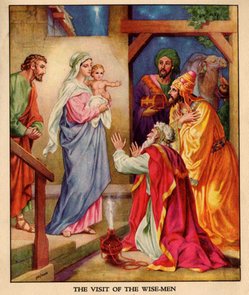 Ah, the wonderful Christmas time. Decorations in the house, the smell of cookies and cakes, the music, the lights, the tree. The house seems to have a different atmosphere during this time of year when we commemorate the birth of our savior. God made flesh to take upon Him the sins of the world.
And as soon as January 1 comes around, we scramble to take it all down. The holiday season is over. Or is it ? What's this thing called Epiphany all about ? And how does it tie in ?
Epiphany is a Latin word meaning revelation or clarification. Merriam Webster defines is as follows:
a Christian festival, observed on January 6, commemorating the manifestation of Christ to the gentiles in the persons of the Magi; Twelfth-day.
an appearance or manifestation, especially of a deity.
a sudden, intuitive perception of or insight into the reality or essential meaning of something, usually initiated by some simple, homely, or commonplace occurrence or experience.
a literary work or section of a work presenting, usually symbolically, such a moment of revelation and insight.
Hold on here. 12th day ? A Christian holiday ? I thought the 12 days of Christmas were before Christmas ? Nope, it actually isn't. I wrote an article about it last year and you can read about it more here. The 12 days of Christmas are after Christmas and conclude with the traditional Christian holiday of Epiphany on January 6th. Starting with Christmas day, that does indeed equate to 12 days.
But what about Epiphany ?
Traditionally it's the day when we commemorate the wise men, magi or three kings visiting the newborn Christ and how it was revealed to the wider world that a savior was born. It is a sudden manifestation or insight to the Gentile world that today in Betlehem a Child is born who has come to rescue the world. I could write a long treatise about whether or not there were only three magi, how perhaps this fulfills what is described in Psalm 72:11 or how the story Matthew 2 puts in stark contrast the reaction of the gentile world (represented by the magi who fall down in worship) versus that of the Hebrew world as represented by Herod. But that would take too long here. I just want to urge you perhaps to celebrate Epiphany and realize how long it has been part of our Christian traditions.
The earliest reference to Epiphany as a Christian feast was in A.D. 361, by Ammianus Marcellinus. Probably around A.D. 377, Epiphanius of Salamis claimed that January 6 is "Christ's "Birthday; that is, His Epiphany". Later on, in A.D. 380, Gregory of Nazianzus referred to the day as "the Theophany", an alternative name for Epiphany, saying expressly that it is a day commemorates the nativity of Christ. Both in the Roman Catholic liturgy and the Eastern Orthodox liturgy, the Epiphany was actually followed by another Octave, or series of eight days, ending with the day of the Holy Family. Although the traditions seem to get lost more and more, there are still to this day "Drie Koningen feesten" (or feasts of the three kings) going on in Flanders.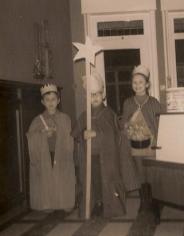 As a child, we didn't celebrate Halloween. But on Epiphany we dressed up as the party of the magi, with servants if your party exceeded three people, usually faces made black with a burned cork, carrying a lantern and a homemade star. We then went around singing from house to house, looking for the newborn king. We rang the doorbells and sang different carols and tunes about the "three kings" looking for Christ. Or a more silly song…. And we would be handed candy or even better, some money.
A second tradition I fondly recall is the "King for a day" tradition. Mom used to make an "Epiphany cake" and in it would be hidden.. a coffee bean ! The one who was lucky enough to be served the piece with the bean, was "King for a day". Usually it was limited to being exempt from chores that day, being able to pick what was for dinner or just overall being able to decide which games we would play.
Yet today, in the hustle and bustle of the modern Christmas season, we're almost glad it's all over. Take down the decorations, take down that tree. We can't seem to wait to get our lives back to "normal" and move on as if nothing has happened. Almost as if we are anxious to forget that "For us a child is born". So perhaps, this year, leave the lights up a little longer. Make a King's cake. Have a kid be "King for a day". And extend this season a little while longer in which we remember the birth of Christ. Celebrate the Epiphany, the marvelous revelation and insight that God incarnate became flesh for us. And perhaps our sense of peace, compassion, love and care will extend just those 12 extra days as well.