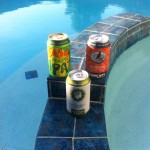 July 4th festivities have come and gone, but there's a lot of summer left. While trying to tolerate the Texas heat, I want to grab a light, refreshing beer and since the macro lights don't quite fit the "taste good" criteria, I often grab what is called a Session IPA. So here's a review of three local Dallas session IPA's. Sine they're all available in cans, they should find their way into your cooler this summer.
What exactly is a "Session IPA" ?
Recently a well respected head-brewer mentioned to me that it's "just another more hipster name for the American Pale Ale". And while technically not entirely accurate, he does have a point.
Officially in the BJCP (Beer Judge Certification Program) style guide, which is style guide used for many competition, there is no such thing as a "session IPA". In the newly revised BJCP guide there is a style for "English IPA" under the "Pale Commonwealth Beer" category and an entire "IPA" category devoted to American and Specialty IPA beer styles.
The "session" moniker really applies to the strength of the beer. Anything classified with an ABV strength of less than 4% ABV can be called "session". So one could have an "American IPA" of "session strength", opposed to the regular range that would put it in the 5.5% to 7.5% range. Or a "session-strength Belgian Specialty IPA". But since there's limited space on a label and for ease of use, we just tend to call them "session IPA's". And yes, since the American Pale Ale range is between 4.5% and 6.2% ABV, you can theoretically have a "session-strength American Pale Ale".
Confused yet? We all are. But now that we've to the technicalities out of the way, let's get back to the tasting, shall we?
Review
We took three commonly available session IPA's and put them side by side.
Community Beer Co: Sundial IPA
Deep Ellum Brewing Co: Easy Peasy
Lakewood Brewing Co: Hopochondria
But before we start the inherently subjective taste comparisons, here are some numbers. Bitterness is often measured in a standard called IBU (International Bitterness Units). As we have discussed before, IBU's do measure the absolute bitterness of the beer, but one always has to balance this out with the gravity (or sugar content) to get what is called "perceived bitterness", which is a more accurate indication of how bitter the beer really tastes. I had a hard time getting the gravity numbers of the Deep Ellum Easy Peasy,  but Sundial and Hopochondria clock in with an original gravity of 1.042 and 1.038 respectively. But ABV can help somewhat in this evaluation as well, and those were readily available.
Here's the numbers:
Sundial: 35 IBU with 4.5% ABV
Easy Peasy: 40 IBU and 5.2% ABV
Hopochondria: 57 IBU and 3.5% ABV
Sundial:
A light amber color, fluffy head. Aroma of orange, tangerine and citrus-like tones betray the use of Amarillo and Simcoe hops. Caramel and well balanced malt flavors play well with the hop bitterness, which doesn't leave you with a long lingering aftertaste. Very well balanced, it seemed to be the least "hop forward" beer of the three and the one I enjoyed more as a food pairing beer.
Easy Peasy:
Lighter in color than the Sundial. It has a certain fruitiness to it, which could be explained by the use of tangerine and lemon peel. More hop forward and piney/citrus notes betraying the heavier use of Northwestern hops. I found it easy drinking, but didn't leave a long lasting impression, making me want to go back for more.
Hopochondria:
One word. "Hops !". The lightest color of the three, one could almost mistake the view for a pilsner or lager, until your nose reaches the rim of the glass. Citrusy, grassy, piney, floral. Everything a hop lover would look for in an IPA. Quite refreshing and with the lowest alcohol content of the three, the one I'd grab if I'm really thirsty or after some yard work. A beer you could drink all day long. TNot that we advise you to do that…
In conclusion, all three of these beer deserve a presence in your cooler for the upcoming holiday. Frankly, I stock all three in my fridge and intend to keep it that way all summer long. All three are very well done beers, with the Sundial being the most balanced, the Hopochondria being the most hop forward and the Easy Peasy fitting nicely in between. Personally, I'll open the fridge and decide then which one to grab. It'll all depend on the mood I'm in.